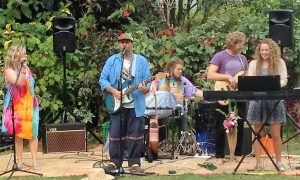 Sunshine Coast  Qld
pop rock
The Chapman 'Tribe' (Georgia, Asher & Josiah) have all had music as a basic ingredient of their lives since each of them were born. Little wonder as parents Andy and Sharny have lived and taught music, drama and dance for many years.
Veterans of music and mission trips to island nation Vanuatu and other areas of the South Pacific, which Andy calls "Our Territory", the Chapmans head out on their first trip to Brazil on their next Music, Ministry n Mission adventure for 6 weeks through December and January.
Papua New Guinea (another first) is next on the list in the early part of 2017 and plans for an Australian tour with the Apiranas are in the pipeline.
Andy Chapman  v, g
Sharny Chapman  v, shaker, perc
Georgia Chapman  uke, v
Asher Chapman  d
Josiah Chapman  k, b
Elijah May  d
2001.05.01  CD  Everyone's A Model
2007.05.01  EP  Ain't Gonna Worry
2010.01.01  CD  Everyone's A Model (re-issue)
2014.11.03  EP  No Ordinary Day