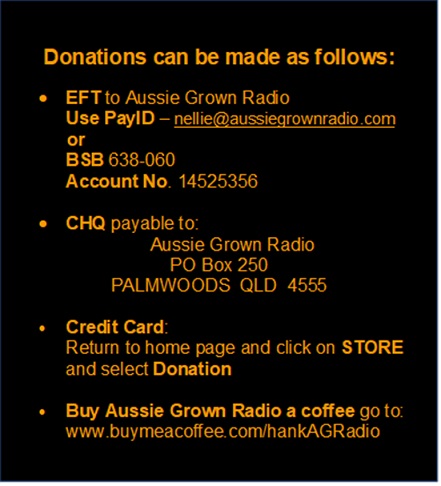 Aussie Grown Radio is a faith based organisation with a heart and mission to be of service and support to the Australian Christian music industry.
Why?
We believe that music connects the world and we want to affect change using music with meaning and message; created by artists who champion Christians values of faith, hope, love, grace, peace, joy and service.
Aussie Grown Radio represents a collective of Australian* music artists committed and dedicated to spreading positive messages through music to people from all walks.
Aussie Grown Radio has various income streams to fund its operations including generous donations made by loyal supporters and sponsors like yourself.
Supporting Aussie Grown and ultimately, the artists that you love to hear, is so easy now and all it takes is the price of a cup of coffee. Check out the Aussie Grown Radio socials for the 'buy me a coffee' post or log onto www.buymeacoffee.com/hankAGRadio and donate today.
Please help us to expand our reach so that we can continue to fulfil our mission to make a positive change in this word.
*Our play list includes a small number of New Zealand artists.
Our bands and artists give tesimony to the work Aussie Grown Radio is doing.  Here are some messages of support we have received: