Sydney  NSW / LA  CA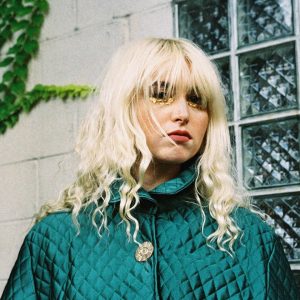 pop electronica
In the mountains of the Great Divide, back of Coffs, nestles the Dorrigo Plateau near the edge of the New England Escarpment and the country town of Dorrigo. A bustling highland community built on timber cutting and later a dairy industry,  tourism is becoming the mainstay of the little town with a Railway Museum and the Danger Falls the main attractions.
This little country highland town of Dorrigo is a far cry from the thriving club scene in Sydney where a former mountain teenager cut her craft, writing material SO out of the box for a Dorrigo audience more akin to heading a couple of hours WSW to Tamworth than "way down south" to the big smoke of the city.
But it was into the clubs of Sydney that audiences came to feast on the songs of Phebe Starr, the new kid on the block with an amazingly different perspective on life and an equally tantalising stage presence that has seen the gold-flaked blonde send audiences away enthralled for more and soon selling out her own headlining shows.
America beckoned and the rising Starr answered, blowing away crowds at the Australia Day BBQ celebrations on Santa Monica pier, the huge SXSW festival in Texas and sellout shows across the country, through Europe and at home. Phebe recorded five tracks live for Chicago's Audiotree in October 2016, including her singles "Lavender Scars" and "Feel My Love." These can be found as individual songs or the complete session with interview on the Phebe Starr YouTube channel.
Phebe now divides time between her home in Sydney and her base in LA and continues to write and perform cutting, topical and entertaining music for a rapidly growing audience.
single releases
2012.05.01   Alone With You
2013.02.14   Jurassica
2013.11.15   Tonight
2013.11.15   The Worst Part
2016.03.09   Feel My Love
2016.05.04   This Time
2016.07.15   Lavender Scars
2016.12.16   Feel My Love (Manatee Commune remix)
2017.01.26   They Keep Telling Me
2017.02.24   Two Hearts
2017.03.03   Lavender Scars (Moglii remix)
Capetown ft.Phebe Starr
2014.10.17   The Night
album releases
2014.02.10  EP  Zero  (5tks)
2016.11.01  EP  Phebe Starr On Audiotree Live  (5tks)
2017.03.31  EP  Chronicles  (6tks)
https://www.facebook.com/phebestarrmusic
http://www.phebestarr.com