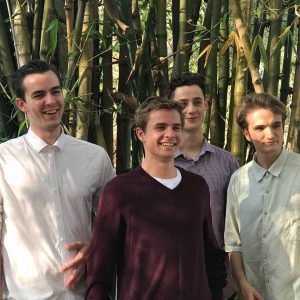 YONDER
Gold Coast  Qld
indie soft rock
A very new band out of the Gold Coast with a lot of experience with members coming from the former Fox And Fiasco and Maddi Rose bands forming in September 2017.
YONDER are a vibrant, emerging band from the Gold Coast, Australia. The indie / soft rock style has resulted from the past six months of jamming and developing their original sound and direction. The band is constructed of four members; Lachlan Saward (bass), Jayden Mitchell (drums), Brendan Huxley (guitar), and Jordan Huxley (keys, vocals).
2017 brought YONDER together and the boys are excited to dive into the Gold Coast music scene.
Looking forward to amazing music from this talented four-piece.
Jordan Huxley   v, k
Brendan Huxley   g
Lachlan Saward   b
Jayden Mitchell   d
single releases
2019.05.06   Fly Ahead
2018.12.13   Lost Out At Sea
2018.04.03   Way
album releases
Yonder on FaceBook
Yonder website
.
.
.