Georgina MAKDESSI

Sydney  NSW
alt. pop folk
Graduating in 2008 from Trinity College  London with an Associate Diploma in Recital in Voice and a recipient of the Exhibition Award as a distinction achiever, classically trained Award-winning mezzo-soprano Georgina Makdessi has since performed at various venues and has had the honour of working with string quartets and a number of musicians as a much sought after soloist.
The Sydney vocalist has a passion for complementing every occasion from corporate functions on a Sydney Harbour Cruise to a church / garden wedding ceremony, other receptions and special events with her musical talents.
Georgina also regularly performs with the team from Sydney Wedding Music.
single releases
2022.05.27   Feel It Now   02:48
2022.01.21   Never Let Me Go   03:37
2021.10.29   You And I   03:10
2020.11.20   Could This   03:22
2020.08.07   You Say   04:17
2019.08.16   Love Again   03:22
2018.09.21   Into Our Lives   04:35
album releases
2017.06.08   CD   Echoes Of Emotion  13tks
2009.12.19   CD   The Essential Wedding Collection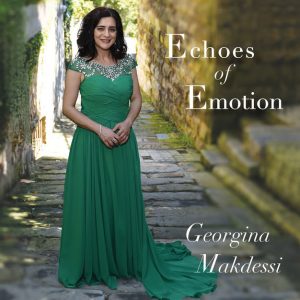 .
.
.